Arizona Department of Health Services
150 North 18th Avenue
Phoenix, Arizona 85007
General and Public Information:
Ph: (602) 542-1025
Fax: (602) 542-0883
Sign up for Email Communications from ADHS on a variety of topics.
NOTE: ADHS is open Monday through Friday from 8 a.m. to 5 p.m., except state holidays.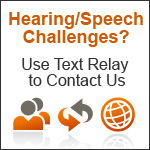 Text Relay services make communication easier for those with hearing loss or speech challenges.
Click here if you would like to contact one of these Offices or Bureaus via text relay. Simply type or copy/paste the appropriate contact number to the left in the text relay window that appears.